AI Based WhatsApp Business Chatbot
What's an AI WhatsApp Business Chatbot?
        In simple words, a WhatsApp Chatbot interacts with humans to answer their questions. Artificial Intelligence (AI) has made such conversations highly effective, humanised, and satisfactory for users.
        These bots are integrated with the WhatsApp Business API to answer queries asked by your customers. Most issues get managed in real-time, while highly complex ones get transferred to your human agents instantaneously on the same chat platform. This is why you can see businesses increasingly adopting WhatsApp business chatbots to boost their brand visibility, customer satisfaction, and engagement rate.
        Chatbots automate workflows and free up employees from repetitive tasks. A chatbot can also eliminate long wait times for phone-based customer support, or even longer wait times for email, chat, and web-based support, because they are available immediately to any number of users at once.
How Industries can benefit from chatbots:
Technology and Software: 
Assisting with software installations, troubleshooting, and providing technical support.
Provide detailed information about product features, capabilities, and how-to guides for using specific functionalities.
Assist users in resolving technical issues, providing step-by-step guides, and troubleshooting common problems related to your software or technology products.
Education: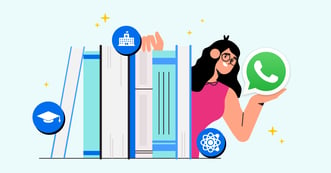 Providing course information, providing registration assistance, and answering frequently asked questions.
Offer a chatbot that can help students prepare for exams by providing practice questions, study guides, and tips for effective studying. Develop a chatbot that offers tutoring services in various subjects. It can provide study tips, practice problems, and resources for further learning.
Human Resources:
Assisting with employee onboarding, leave requests, and providing company policies.
Use the chatbot to collect feedback from employees about HR processes, benefits satisfaction, and overall work experience. This data can be valuable for making improvements.
Insurance:
Assisting with policy inquiries, claim processing, and providing information about coverage.
Remind customers about upcoming policy renewals and guide them through the renewal process. The chatbot can also help with updating policy details.
Government and Public Services: 
Assisting with information about government programmes and applications, and providing updates.
Guide citizens on what to do in case of emergencies, and provide channels for reporting incidents or seeking help.
Assist citizens in understanding tax regulations, applying for benefits, and accessing financial assistance programmes.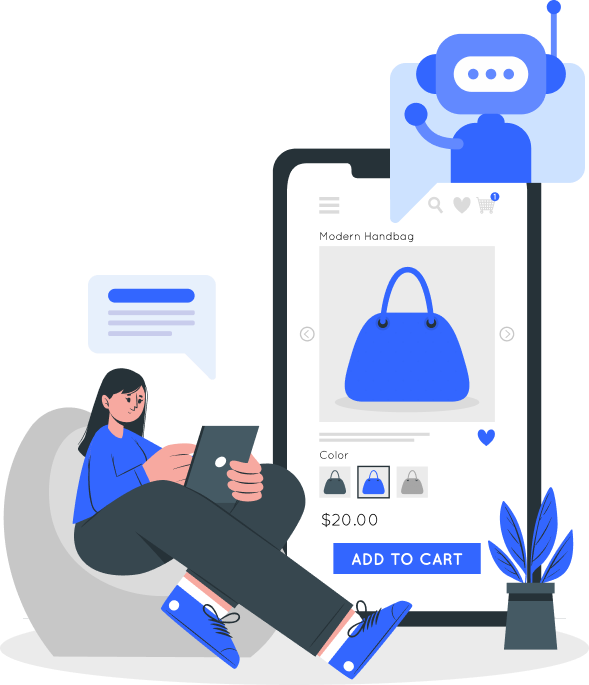 E-commerce:
  Assisting with product recommendations, order tracking, and answering frequently asked questions.
  Assist customers in initiating returns or exchanges, provide instructions on required steps, and offer    guidance on the return policy.
Healthcare:
Appointment scheduling, symptom checking, medication reminders, and providing basic health information.
Provide patients with tips for maintaining a healthy lifestyle, managing chronic conditions, and preventing illness.
Offer medication reminders, dosage information, and guidance on prescription refills. The chatbot can also provide information about potential drug interactions.
Finance and Banking :
Assisting with account inquiries, transaction history, fund transfers, and basic financial advice.
Assist customers in managing their debit or credit cards, including reporting lost or stolen cards, activating new cards, and setting spending limits.
Provide personalised financial advice, investment tips, and savings strategies based on customer preferences and financial goals.
Real Estate: 
Assisting with property searches, scheduling viewings, and providing information about listings.
Provide clients with market trends, property valuations, and insights on the local real estate market.
Utilities and Energy:
Assisting with billing inquiries, reporting outages, and providing energy-saving tips.
Provide information about solar panel installations, renewable energy sources, and available incentives or tax credits for adopting clean energy solutions.
WhatsApp chatbots is highly beneficial for customers and clients: 
Customers and clients can get their queries resolved instantly and initiate interactions with your business at any time.
The support from the business stays available to customers and clients 24 hours a day.
Any size of business can utilise the platform, from small and medium businesses to large organizations.
You gain the ability to broadcast news, notifications, and informational content in a personalised manner.

 

Scope of globalising your business at any point in time using the WhatsApp chatbot, as it's on an international platform.
Generating and contacting leads becomes time-efficient and cost-effective.

 

Marketers can automate the customer journey through the marketing funnel.

 

It gets easy to personalise offers and discounts for potential leads or frequent users.

 

Marketers can send multimedia content to engage leads.